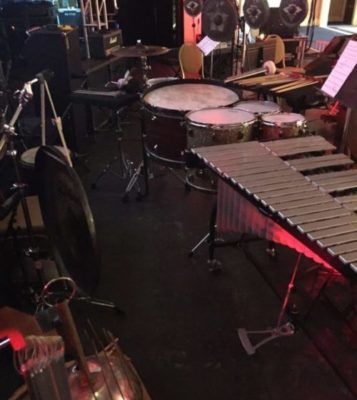 The end of February was busy with multiple performances of Journey LIVE with the Fifth House ensemble. We traveled to Washington DC to perform at MAGFest and performed for a very enthusiastic crowd of over 2,000 people (with my setup pictured above). A week later we did the show at Steppenwolf theater in Chicago, where it was also very well received. We have three more performances of Journey LIVE in April, at Florida Atlantic University, University of Illinois- Springfield, and CIMMFest in Chicago. More dates are currently being booked for the summer and fall, with a confirmed appearance at National Sawdust in Brooklyn in July.
The end of March will bring more fun activities and traveling as well. I will be in Omaha at the end of the month to present a masterclass and concert with Atlas Percussion as part of the University of Nebraska Omaha's Petite Musique series. Right after that, I will present my paper on Bjork at the College Music Society's Great Lakes Regional Conference in South Bend, Indiana and then perform with Beyond This Point back in Chicago.
More exciting recent news included the acquisition of a Musser M55 vibraphone. It sounds and looks great and I'm exciting to have it part of my instrument collection.