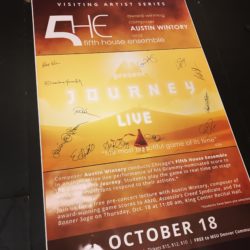 I am sitting at a Starbucks waiting for my flight at the end of a week of performances and traveling and I realized this would be a great time to post an update here! This week I have been in Folsom, CA and Denver, CO with Fifth House Ensemble presenting more performances of Journey LIVE. I've been playing this show with them for several years but it's still a lot of fun to work with great musicians and perform such a unique and beautiful show. We already have more of those shows booked in January and February that I am looking forward to as well! The picture above is of the banner we all signed after the Denver performance, and the picture below was my view from behind the ensemble in Denver.
The semester is also off to a great start. I am now teaching a full course load at UW-Milwaukee and this past summer I moved to Milwaukee. I am continuing to do some work in Chicago as well, but I am enjoying the Milwaukee community and being even more present and involved at UWM. Some early-semester highlights so far have been a new Marimba One marimba at the school, and some great student performances in the department-wide convocation and large ensemble concerts.
I have a number of other performances coming up as I'm playing with the Wisconsin Philharmonic on 11/2 and a Chamber Music Milwaukee concert on November 11th. I will also be presenting a clinic at the Milwaukee Music Festival on 11/17 right after attending the PASIC convention 11/14-16. The next two months should be a lot of fun with those engagements, and finishing up the fall semester!